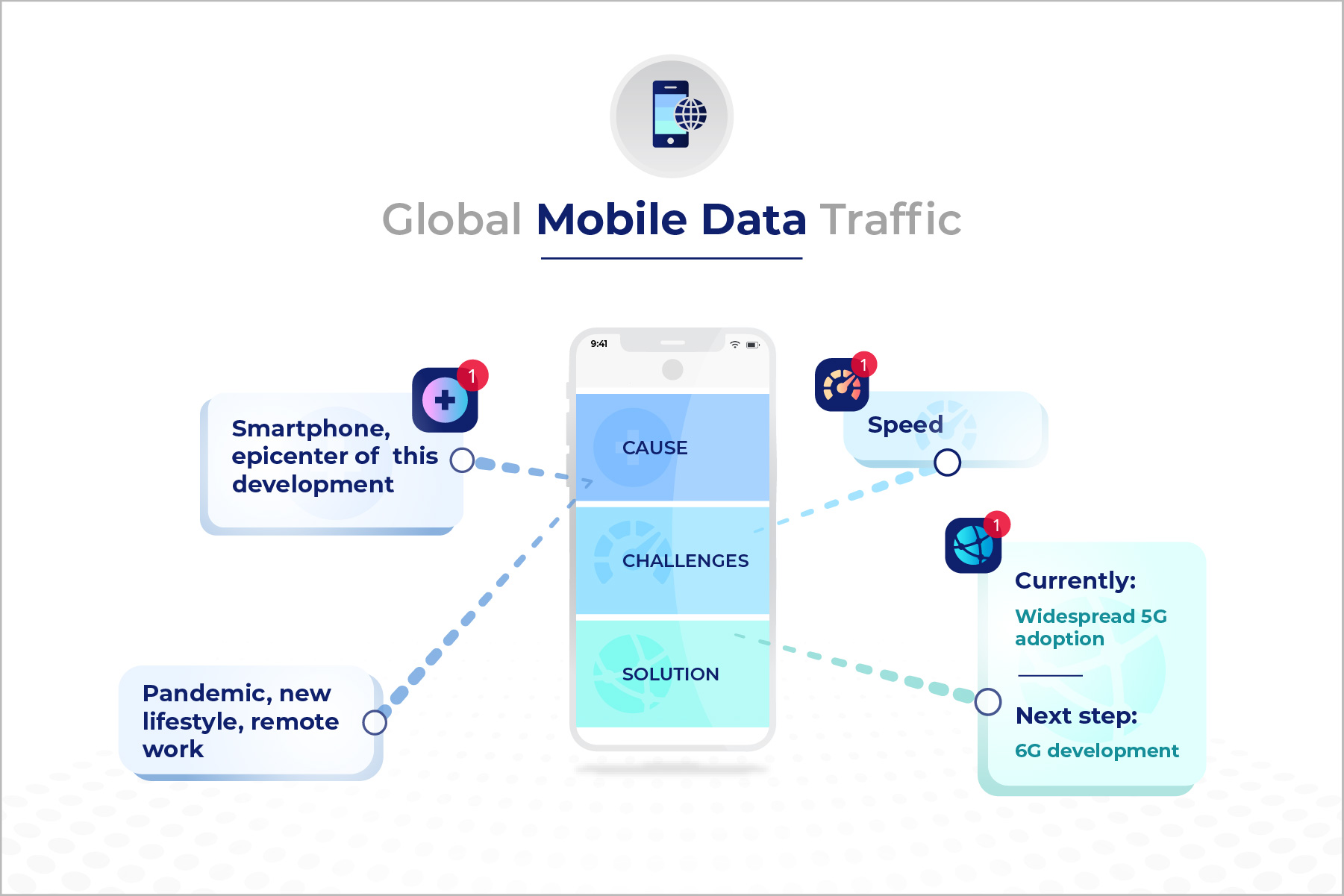 The rise in mobile data consumption: facts & figures
Has your mobile data consumption increased over the past 18 months? You are not alone. As a matter of fact, the whole world is in the same situation. Indeed, in 2020, the global mobile data traffic consumption was 9 GB per month on average. It is now expected to increase by 25% by 2026, to reach 35 GB per month.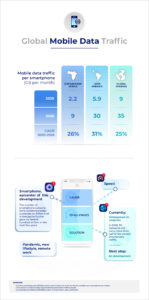 Smartphones and the pandemic as growth drivers
Two factors have been driving this growth: first and foremost, the ever-increasing Smartphone penetration. Secondly – and this is no surprise –, the new pandemic-induced lifestyle, characterized by an increased reliance on the Internet. Indeed, today, forecasts indicate that the number of smartphone subscriptions worldwide, which already exceeds six billion, will grow by several hundred million over the next few years. In this respect, it is fair to say that smartphones are the epicenter of this evolution. This, together with the fact that people are now spending much more time online, has caused the consumption of mobile data to explode.
The need for speed and data monitoring
As a result, telecom operators worldwide have upgraded their network infrastructure to accommodate the new demand for bandwidth. However, some challenges remain, especially in emerging countries, with connection speed being at the top of the list. The widespread adoption of 5G in these countries would help solve the speed issue. But, the deployment of this next-generation technology is still at a very early stage in Africa, for instance. Indeed, less than 1% of mobile connections in the Sub-Saharan region are currently on 5G. In Latin America too, the number of 4G connections still exceeds by far that of 5G connections by far, even though the region has seen a 5G productivity boost since late 2020. Some researchers are currently looking into 6G development. However, emerging countries may need to focus on widening 5G adoption before even considering moving to the next generation of mobile network.
The exponential growth in mobile data traffic has created a compelling need for data monitoring. Indeed, the mobile data ecosystem is a strong driver of socio-economic development on a global scale, particularly in Africa and Latin America. In fact, by 2026, mobile data traffic is expected to increase by 26% and 31% respectively. Effective monitoring will therefore ensure the transparency and security of this ecosystem.
Do you want to discover our Visio Data tool? Click here.