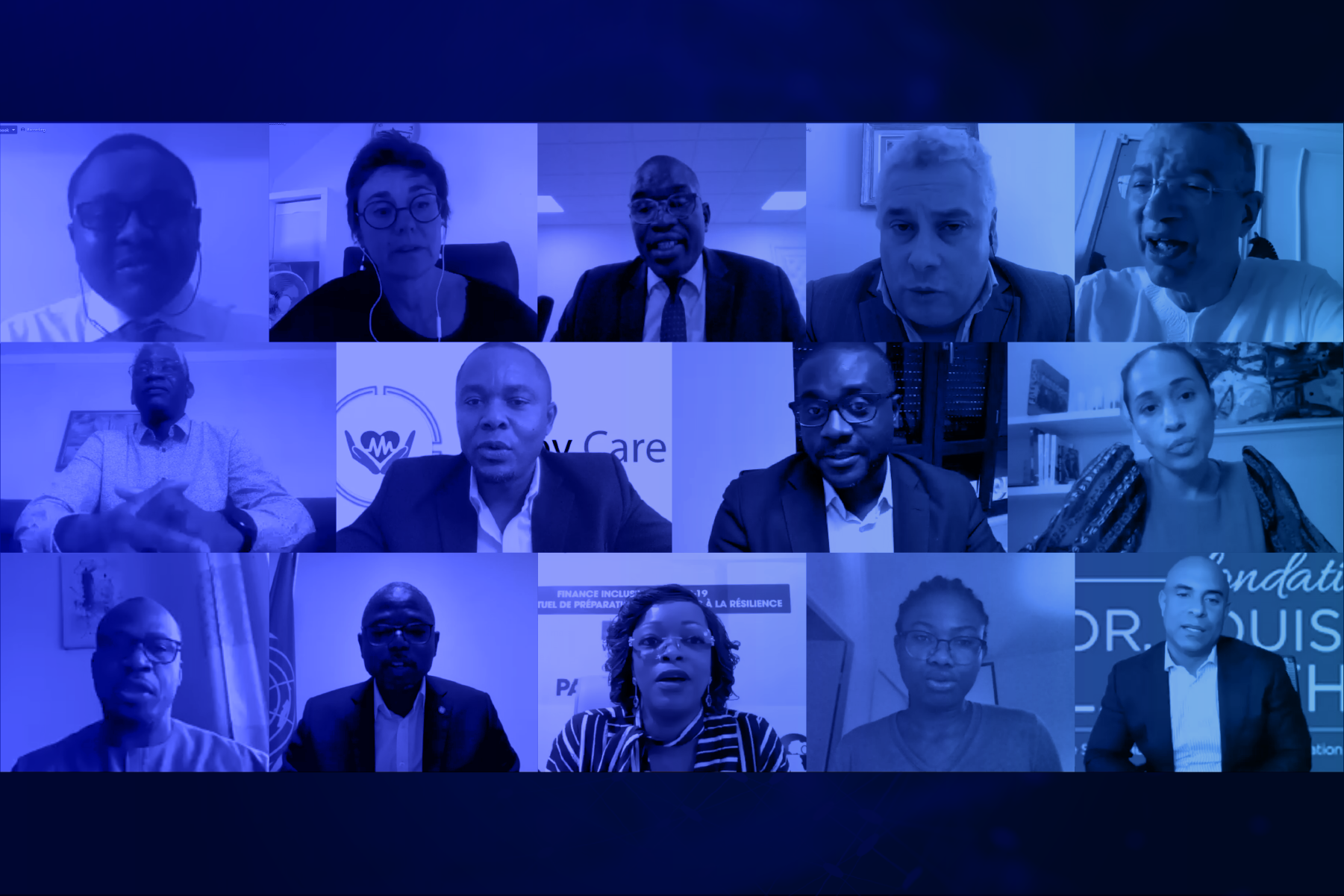 Inclusive Financing & Responses towards Covid-19
On Thursday 28 May, James Claude, our CEO, participated in a high-level webinar focused on the need for a stronger involvement from the actors of the "real economy" and on the role played by innovation for an effective economic relaunch. The Covid-19 crisis is having a severe impact on global economies in a heterogeneous manner and the response capabilities are directly linked to technical and technological resilience. The governments' ability to access actionable data has proven to be decisive for informed decision-making.
The session was attended by influential personalities in the public and private spheres in Africa, who addressed how the business ecosystems, their behaviour and their needs were affected by the present context. Promoted by Ecobank, the Fondation Dr Louis G. Lamothe, CIF and Team RM, the encounter brought to the table the need for coordinated actions at State level, to encourage financial education and mobilize national resources to achieve sustainable and inclusive business and economic ecosystems in Africa.
Technology as an enabler for development in Africa
One of the main topics that were discussed was the crucial role played by technology to drive more agile processes and encourage innovative ecosystems. However, for this to happen, it is necessary to invest in two crucial aspects: education (both basic and digital) and infrastructures. Despite global ultradigitalisation, it should never be forgotten that at the centre of any development that is useful to humans, there must be precisely… humans. If we are looking for a solid development of the technological ecosystem, the education of present and future generations is key. In the same way, building and choosing the right infrastructures becomes a cornerstone of the strategies, and these infrastructures will eventually require capital investments.
James Claude highlighted the need for decision-makers, government officials and regulators to embrace technology as a first defence line in the current scenario, as it represents the best option to drive essential economic sector's compliance and innovative processes.
These thoughts were also supported by Mr Boubacar Diallo, Regional Financial Inclusion Representative in the West Africa Region, who firmly believes that technology should contribute towards a more efficient economic landscape.
Digital Instruments to favour a more resilient agricultural sector
Mr Hermann Messan, expert in international rural agriculture, stated that since agriculture was a key employment sector in Africa, providing 65% of the jobs on the continent, it required the right innovative solutions to become a more resilient sector. In this respect, he also emphasized the need for a mechanism to accelerate capital investment.
In addition, there was a general consensus in terms of the necessity for these digital solutions to be implemented in the financial transactions sector, in order to increase transparency in this vital economic sector.
Moreover, Mrs Anne Flahaut from ENABEL argued that a local strategy should be enforced within the agricultural sector to guarantee more resistant food chains. According to her, this should be promoted through the most suitable logistics to ensure there is a safe and reliable food provision.
Overall, this enriching conversation positioned digitisation as the best tool to promote healthy and inclusive economies, especially in these uncertain times. All economic actors should be involved in the pursuit of more resilient ecosystems, driven by decision-makers, to cushion the economic juncture and use this as an opportunity to take solid steps forward in this direction. However, time is of the essence, as the former Prime Minister of Benin, his Excellency Lionel Zinsou, pointed out. Ecosystems that favour economic, technological and social development need to be urgently implemented, so that the impact of Covid-19 crisis won't entail an increase in the existing gap between developed countries and Africa.
Want to read more about Africa and its response to Covid-19? Click here.