By: Andrew Christian
There hasn't been much funding for African regtech startups. There isn't much press either because sectors that aren't getting the attention of investors are typically quiet. Now, however, there's a new spur for not only regtechs but also govtechs operating in the continent.
Global Voice Group—a global provider of ICT and regulatory technologies for governments and regulatory bodies—announced this monththat it's open to backing African tech startups with up to USD 300 K, with the average investment size between USD 30 K and USD 100 K.
Though GVG is on the lookout for African startups withobvious synergies with its core business, it has opened a special curtain for regtechs and govtechs to walk through and get funded—mostly likely making it the first ever funding initiative that significantly considers the potential of such early-stage firms in Africa.
GVG has its main offices in Spain and South Africa but operates in 7 other African countries. The company collects and analyzes Big Data from crucial economic sectors and turns them into actionable information with which governments and regulatory bodies make better decisions.
Since 2017, more than USD 5 Bn has been monitored on GVG's network. Plus, it's systems have processed up to 8 billion transactions in telecoms revenues alone and made 155 million mobile devices compliant. Between 2008 and 2018, the service has helped its beneficiary countries realize USD 4.6 Bn in cumulative revenue.
According to James Claude, the CEO of GVG, there has been some encouraging developments in the African regtech space, enough to back any startup from the sector.
In an exclusive interview with WeeTracker, he explains the market potential and the pipeline which the company is laying for African regtechs.
As per the newly launched fund, is there a preference for regtech or govtech startups?
Ideally, our preference is for regtech since that is the sector we operate in and have extensive experience. However, we are open to any startups, including those in the govtech and telco space, where we can invest for the longer-term and synergies with the startups are strong and realisable with our core business.
What countries are typically a good breeding ground for African regtech startups?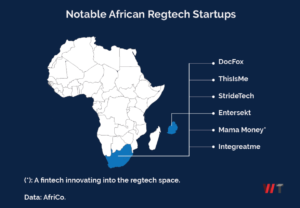 Regtech has a role to play in multiple countries across the continent. The internet and mobile phone penetration levels are quite high in multiple countries, with technology and its use growing steadily as well.
The more economically developed nations are better breeding grounds for African regtech startups, but any country that has a foundation to support emerging technologies will serve just as well.
Our operations have taken us to work in countries such as Rwanda, Uganda Congo, Senegal, Gabon, and Tanzania, amongst others. That shows that regtech can work across diverse nations.
Are there any encouraging regtech or govtech scenarios in the continent?
Yes. There is growth in the number of African startups in the ICT sector, where regtech and govtech are at the core. We are seeing developments in certain areas including: Digital IDs, Artificial Intelligence, Blockchain, data analytics and Mobility data amongst others.
There is also a great focus on thedigitisation of national payments systemsand payment gateways promoting interoperability. There are also existing successes that can be built upon going forward.
Therefore, there are some encouraging regtech scenarios on the continent already and there is still room for more solutions to be implemented across Africa.
Why has the African regtech sector been quiet?
Regtech is still a largely novel development which is slowly being integrated by different countries. We just recently announced a new partnership with Guinea to work with them in implementing one of our solutions.
As the continent continues to develop, more nations will begin to seek out regtech solutions to meet their individual needs and that pattern shall be replicated across different regulators and governments.
The sector may seem quiet for now but there have already been great strides made towards the adoption of regtech. It will eventually become commonplace.
What promise does the sector hold?
The regtech sector holds great promise. Many of our solutions assist in boosting revenue assurance, which is an issue still plaguingmany countries. With the adoption of technological solutions to assist in this, the benefits will be immense.
We also work very heavily in the telecom sector, and with the growth of mobile phone penetration and smart phone use, there are multiple regtech solutions that can be adopted to ensure efficient and total oversight of the sector.
Additionally, as we continue to adopt technology on a global scale, the use of Trusted Digital Identities (TDIs) will become more prominent. Regtech shall be required in the authentication and verification of these TDIs to allow individuals make use of them to gain access to different services.
If we keep an eye on the regtech sector, we shall see its continued growth as more regulators and governments realise its value.
How will Global Voice Group leverage its presence in Africa to back and mentor these startups?
Synergy is going to be key to our relationship with these startups because our aim is to invest in, or partner with, exceptional entrepreneurs that have unique ideas.
Since we shall have identified those who can benefit from collaborating with us, we will assist them in scaling their business models to generate sustainable growth by leveraging our expertise, access to markets, data and technologies, and by funding these exciting young companies.
We will also be able to connect them to different organisations that will be crucial to their growth. That is ideally the role of a mentor –to walk you through different challenges so you do not have to encounter mistakes that you could avoid.
We are looking forward to helping the startups in whatever capacity we can.
What about African govtech? What's the potential in that market?
Govtech will ease the operations of governments anywhere, and Africa is no different. There is potential in the market for govtech solutions which is ready to be explored.
As Africa has shown, it is ready and able to adopt technology in multiple circles. If the right solutions are developed, there will be governments ready to adopt them and we are willing to be part of that journey with the startup