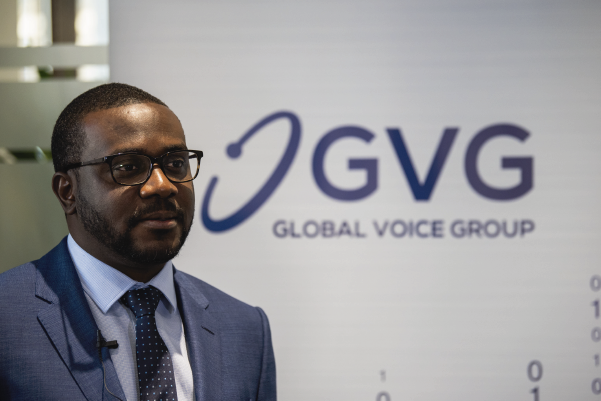 GVG stays on course for excellence with new CEO James Claude
Global Voice Group (GVG) is proud to announce the nomination of  Mr. James Gabriel Claude as the new Chief Executive Officer of the company. Mr. Claude has been selected by the GVG Board of Directors (BoD) to succeed Mr. Patrice Baker, who has held this position for more than seven years. The latter will remain involved as a member of the BoD.
Under Mr. Baker's leadership, GVG further diversified its line of products and services to better serve its existing clientele and broaden its customer base. Leading provider of IT solutions for telecom regulation and revenue assurance, the company extended its core offering to include monitoring systems for digital financial services and other solutions of critical interest for governments and agencies. This innovative spirit led the company to implement the very first platform ever developed for mobile money oversight in Tanzania, Rwanda and Uganda.
"James has been a key member of our top management for more than a decade. He has been involved in virtually all aspects of the company, as an engineer, a technical project manager, a chief technology officer and, more recently, as the deputy CEO of the company. Many qualities and assets made him the logical choice to take over from me", said Patrice Baker.
Fluent in English, Spanish and French, Mr. Claude holds a Master's Degree in Management from the Boston University and a First Degree in Telematics Engineering from the Pontificia Universidad Católica Madre y Maestra, and has completed countless training courses in advanced technologies. Starting as a Network Operations Center manager for GVG in 2005, he rapidly worked his way up to assume the technical management of many of the company's projects for telecommunications regulatory authorities until his nomination as Chief Technology Officer in 2012. Since then, he has played an increasingly important role in the strategies and orientations of the company, as a CTO and, more recently, as the Deputy CEO, a position that familiarized him with his new position, as Mr. Baker was preparing his succession.
Mr. Claude envisions exciting developments for the company in the near future, in continuity with the product diversification initiated by his predecessor, Mr. Baker. However, he puts a strong emphasis on constant innovation: "GVG evolves in a technology-driven sector that is constantly changing, and by definition, our solutions are never definitive, our work is never done, it is an on-going process to the benefits of our clients," he stresses. "Accordingly, R&D will remain an important part of our activities under my leadership. I will also work at changing the perception that many people, including our customers, have about GVG as a provider of telecom-related technologies while we are much more than that. We have pioneered and we continue to develop innovative solutions for FinTech governance, for example. The real extent of our vast expertise must be better advertised."
This does not mean that GVG will devote fewer resources to its telecom regulatory tools division, which will remain an important part of the company's core offering. As Mr. Claude stated: "Over the years we have developed innovative products and solutions in the RegTech niche market, taking into consideration our clients' needs and challenges. As a company, we have reached the level of maturity and the know-how required to position ourselves as the leader of ICT solutions for good governance in frontier and emerging markets. We will continue to expand the base of our offering by providing more solutions conducive to a real and inclusive digital economy."